With the backdrop of the iconic IFC and the observatory wheel, overlooking the amazing Victoria Harbour, IRIS is hosting its 7th edition of health and wellness festival IRIS Your Escape in the Central Harbourfront Space, Hong Kong.
Wellness-oriented festivals are a fast-growing trend and IRIS is transforming the landscape of this space in Hong Kong. Iris Your Escape embraces the celebratory nature of any festival while allowing the attendees to head home rejuvenated instead of exhausted.
Gianni, the founder and director of the mothership of the event, the Hybrid Group, who is born and raised in Hong Kong, calls Iris a strong community that has grown fast. "It started off with an event of 50 people and a couple of vendors to 1000 people on our very first planned event. This motivated and inspired us to do more." he says.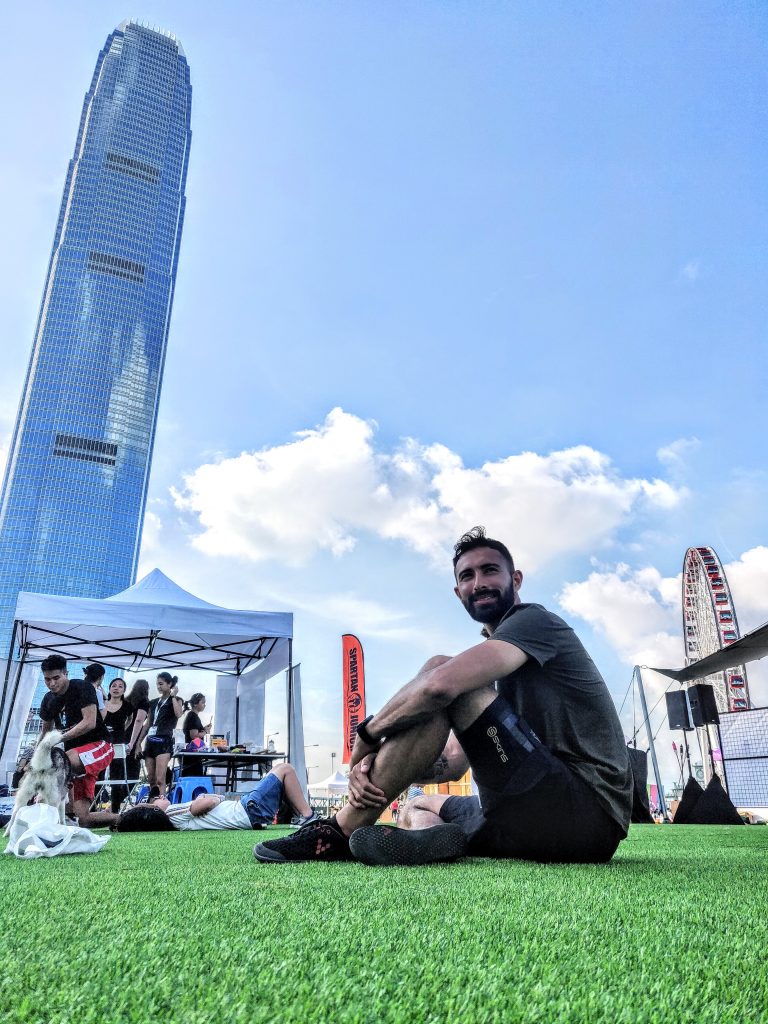 "It's been a very interesting journey in the health and wellness industry with a lot of learning experiences. Initially I had started practicing yoga for physical reasons before it became much more for me personally. I used to go to a studio regularly, where I not only experienced the physical and mental benefits of the practice, but also saw that there was an influx and a great demand for this. My partners and I were in the event industry and we wanted to shift things a bit and thought, why not try Yoga? After the first event, the result was totally positive and here we are today."
More from the conversation with the founder:
Partners –
Gary spearheads Spartan race which is a very different event to Iris.
It tests the physical body and the mind. Highly recommend it as it is super fun too. Charlz does a lot of stimulating stuff behind the scenes, with the marketing initiatives we do for different brands.
How did you 3 come together?
That's the core of it all. We wanted to share what happened with us. My love for yoga, one of my partners is into gym and fitness and my other partner is into sustainability and was a former dancer.
With these different dynamics in health and wellness space, we bring it all together here.
As with the different things that we do, it's an overlap.
Iris Insider –
It is the latest addition to Iris which is a zone that features industry experts in the health and wellness field who will be speaking on various topics like addiction to female entrepreneurship. Generation T is hosting a panel too.
Yoga and you –
It started with a Groupon and the fact that footballer's injury is prevented by yoga led me to pursue it. Yoga and me, our paths crossed and there is no looking back. I love practicing yoga, holistically. Yoga is a much deeper practice than just postures. There are definitely physiological benefits, but also the understanding of the mind, body and self.
Yoga and meditation are intrinsically related.
India and Yoga –
As someone from Indian origin, being born and raised in Hong Kong, I can see many families follow tradition without knowing why they do it. It is blind following and it is the opposite of Yoga. In Yoga one is encouraged to inquire within oneself. It is good to spread some awareness about this back in India where the once-saturated trend is now returning.
Non-yogic hobbies –
Watching TV shows
Introvert or extrovert –
I am more introvert than people think I am. I like being around my close circle of friends, spending time with them and having meaningful conversations with them.
TV shows (Current Favorites) –
Black mirror, The Sinner, Suits.
Food –
There is an abundance of information out there; all kinds of diets and food control regimen. People should be very aware and also be experimental with food. Having a super healthy salad compulsively is less beneficial than soulfully enjoying a bag of fries. If the food you eat makes you dull, make a change and start eating the food that actually makes you energetic and happy.
Favorite food –
Japanese Cuisine is the best, I like Japanese culture too.
Football and you –
I played when I was younger, at a much more competitive level. Had a Brazilian coach who sent me to play at Youth Professional Club in Brazil. I now play with the Hong Kong football club which is a semi-pro league.
Beer Yoga –
Alcohol and Yoga can be harmful together. And it is ridiculous to call it yoga, just call it beer workout or something.
Your recommendations for IRIS Day 2 Escape – September 23rd –
1. May Nagoy | Flow for Freedom Yoga | Yoga Mainstage
2. Crystal sound healing and meditation | Zen Garden
3. Ambikha Devi | Qi meets Prana Yoga | Zen Garden
4. Studio Fitness | Cut Far Unstoppable | Fit District
5. Bollywood dance | Ticket to Bollywood | Fit District
6. Doga | Yoga with your dogs |The Playground
7. Hypnotherapy | Silent Disco
8. Neuroscience of dancing | Silent Disco
9. Addiction talk | Iris Insider
10. Digital Detox | Iris Insider
Don't miss Gianni's session on debunking meditation myths at the Zen Garden at 4.30 on the 23rd.
The trio is on this great journey of transforming lives by helping people becoming healthier and better version of themselves while making it all, fun and festive. IRIS is a unique experience that will leave you feeling physically and mentally rejuvenated rather than drained after a weekend with your friends.
For full schedule, visit their website here.
For tickets, purchase here.
Checkout their guidebook here.