We speak to three public-spirited architects, Arnold, Keith and Stephen about their recycled glass brick spiral exhibit at deTour 2020, the importance of technology in the industry and about green design. They also express hope about a fruitful change in the state of glass recycling in Hong Kong.
Arnold Wong, Keith Chan, and Stephen Ip graduated in Architecture from the University of Hong Kong. While working in architectural offices, they have been actively participating in architecture and design-related research, activities, exhibitions, and competitions. Their works are recognized internationally, and locally, including the recent Hong Kong Institute of Architects Young Architect Award, "Victoria Harbour" Word Art Competition, Harbourfront Public Furniture Competition, and DFA Hong Kong Young Design Talent Award. Major exhibitions include Venice Biennale of Architecture, Hong Kong Biennale of Urbanism\Architecture, HKIA "REVEAL" Exhibition, Wharf Designer Chair Exhibition, and deTour, etc.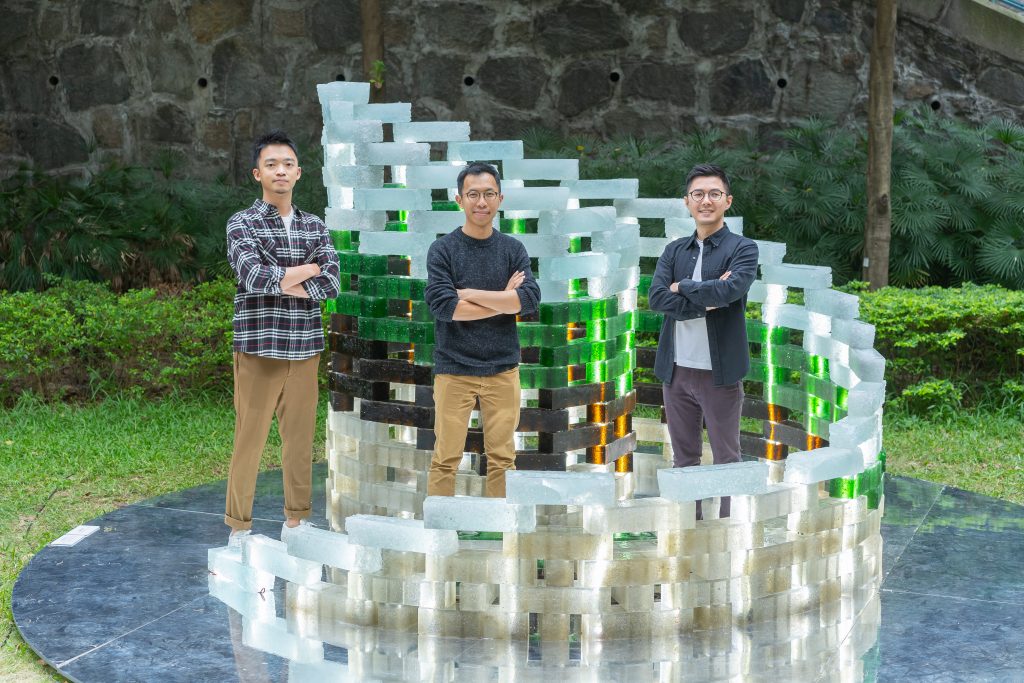 How many years have you been in the world of design? How did you get started in Hong Kong?
Keith: "Stephen and I have around 15 years of experience in the industry and we have been working in Hong Kong and in UK. Arnold has over 10 years and has worked in Hong Kong, Amsterdam and Tokyo. We met at the University of Hong Kong when studying architecture and went off to different countries to pursue our masters."
We worked together in 2018 for a competition to build a green community station conducted by the government to raise environmental concern about recycling glass. Following that, we worked on a project by the HK Biennale of Architecture and Urbanism at The Mills last year, creating a glass recycling tower.

The theme for deTour is "matter of life" and you have described your installation as giving second life to something as common as glass bottles. Tell us more.
We have been working in phases for this project and the journey started with the competition. The second phase was our glass recycling station at The Mills where glass bottles gets crushed and recycled. This can be perceived as the first life of the bottle. And fast forward to deTour 2020, we amassed the crushed bottles into a product – glass bricks – our key building element for the installation, which is also the second life of the bottle. We wanted to create a structural system with transparency and that's how our architectural scheme for the recycled glass brick spiral came about.
We see the installation as a work of art, that should try to create questions for the viewers, and have an impact on them.
The spiral structure also represents a sort of social interaction to the present time, on how people can communicate and can thrive amidst the pandemic. It allows them to experience how going from a public space into a private space would feel like. The semi-transparent bricks add another dimension to the spiral where people can view the outside world from inside.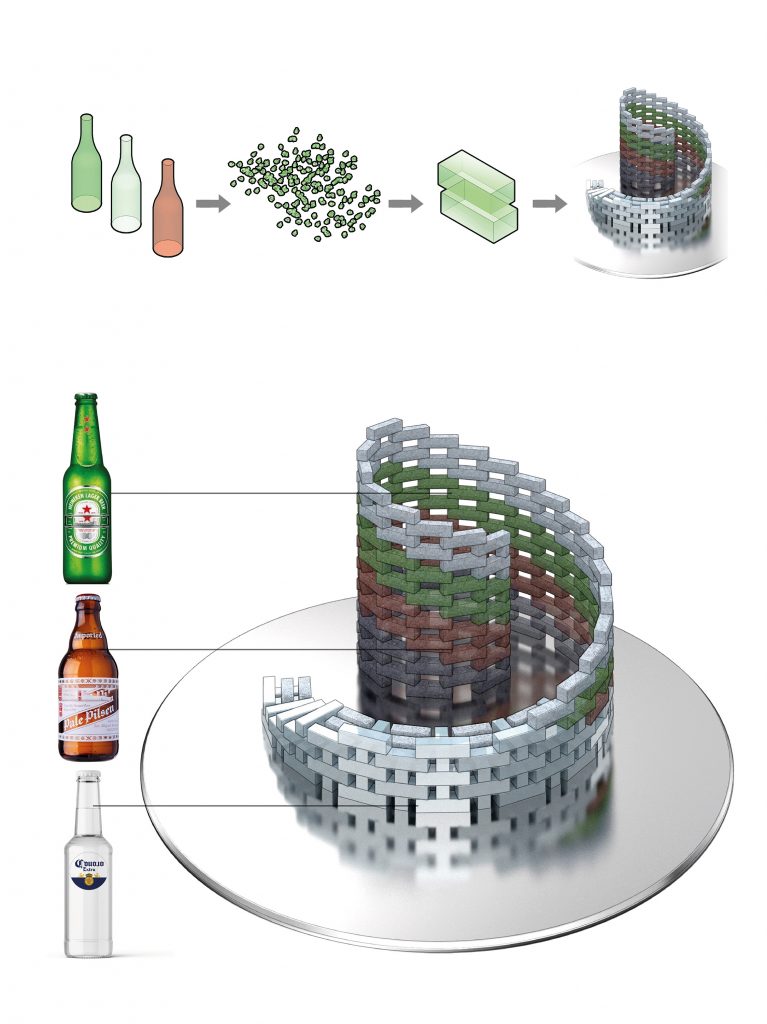 What was the biggest challenge in putting up the glass brick spiral in such a strictly controlled environment?
We would like to thank deTour and PMQ for giving us a beautiful location for showcasing our sculptural spiral installation. This is our third time working on this topic and the recycling company was very enthusiastic too. The company sorted rubbish out and we had to deal only with the glass bottles. However, it took us more time than expected to get this installation together. We had to get the correct form factor for brick dimensions and the process was more like an experiment with around 400 pieces of glass bricks. It took 2-3 days to lay it together with bare hands and although challenging, we should say, it was quite fun!
"Working on this project was a memorable experience for the 3 of us. We hand sorted 3000 bottles as the color sorting machine was not ready yet. We went under the rain, when it was 29C and the it felt like walking into LKF early in the morning – with a musty smell of alcohol around."

Arnold
Technology is one of the most noted hindrances to any architect's dream. What is your take on that?
If tech can help us more in this making process, like in the case of an automatic color sorting machine, it would have made it a lot easier. We could have benefited from something to wash and sanitize bottles too! Technology can help streamline the recycling and remaking process. For the next installation, we can make use of even more advanced tech such as 3D printing or robotic arms instead of doing with our own hands.
"The recycling behavior of the city needs to shift from just 'doing the thing' to 'doing it right'. I think everyone who recycles thinks that they're doing "the right thing." When it comes to recycling, that sense of making even a small difference to environmental protection is uplifting but sorting your rubbish properly can go a long way."

Stephen
The cost of recycling can be enormously reduced by using technology and it is a major signifier that we can learn from other countries. Lag in the field of technology is one of the barriers to proper recycling in Hong Kong and stops the recycling industry from thriving. Access to readymade technology will perhaps be the way forward.
Green design – it is supposed to be an integral part of design and design development. Do you think you treat is as such or you need an ideation phase to think about eco-friendly designs?
Keith: We are often presented with the challenge of balancing between design expertise and cost. Modern design, green incentives and green features costs money. We hope developers can see past that and realize that these features will be beneficial to them. It can save cost on maintenance, future energy consumption and make the building's whole life more sustainable. It also helps in building a refined corporate image and can save millions in marketing cost.
Arnold: I was quite lucky when, at our exhibition at The Mills, the recycling glass factory owner was there and so was my client for a shopping mall project. I introduced the two and the client was immensely interested in the idea of using recycled glass in terrazzo floors for the mall. Introducing this material in the shopping mall project, I think is an environmental-friendly idea.
Stephen: The idea is to work this material into our industry in a step by step manner. We bring our clients/ developer to show our work and it can slowly give them the impression on how glass can be used as a green product. Gradually, recycled glass will get into our daily life and it will be encouraging to see it being used as a real-life product. Going commercial will be a perfect use case – building temporary partition walls for restaurants, will be quite a good way to further promote the use of recycled materials.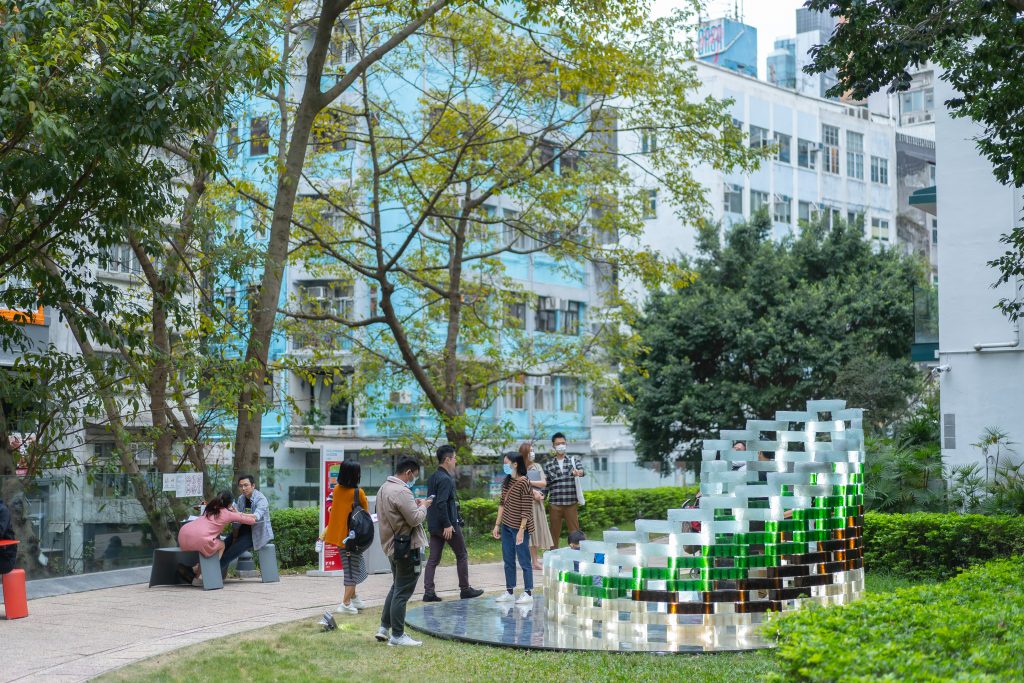 What are your thoughts on climate change and its impact globally?
As architects, we are concerned about climate change, sustainability and how this will affect our immediate environment and the world. The onus is on us; we have the power to change and the power to influence. In addition to that, we consume a lot of energy and create so much waste and it is already having a big impact. For that reason, we participate in so many competitions – to create awareness amongst people. We can drive sustainable initiatives by talking to our clients and persuading them.
"If those people were willing to change their minds, they can start working with us on incorporating a whole new system, and in a way, a whole new ethic"

Keith
Many are interested in green incentives, but they always end up prioritizing cost. The positive thing is that most are interested in bringing the cost down by incorporating recycled material into building material. We have come a long way, but we still have a long way to go!
The trio answers some rapid-fire questions for us: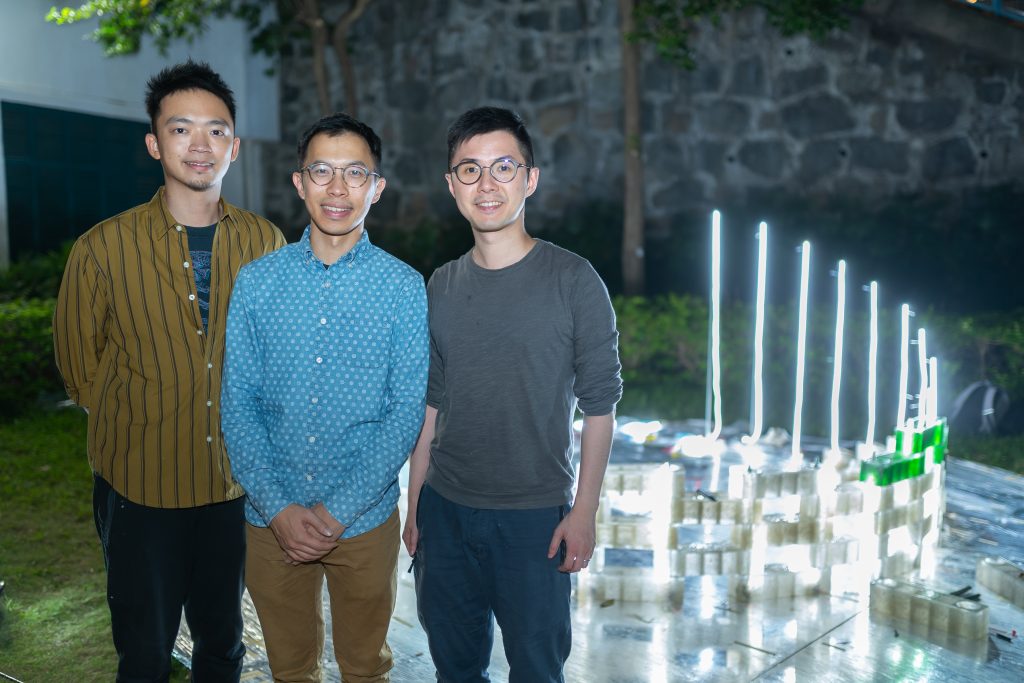 Favorite designer/ architect

Stephen

– "Toyo Ito"

Arnold

– "Sanaa"

Keith

– "Thomas Heatherwick"
Favorite city other than HK

Keith

– London

Stephen

– London

Arnold

– Amsterdam
Most favorite place in HK

Stephen

– Sham Shui Po

Arnold

– Victoria Harbor waterfront

Keith

– Sheung Wan
If you had to design a random thing today, can you share the first things that comes to your mind?

"I want to design a floating swimming pool in the Victoria harbor", says

Stephen

"I want to design a super machine that could kill covid", quips

Arnold

"I will design a temple which brings together members of all faith. It is for everyone to pray together and be happy", says

Keith
One advice for budding architects and designers

Stephen

says, "Keep trying!"

Arnold

says, "Be yourself and never settle for an established system!"

Keith

says, "Don't give up, no matter how tough, no matter how much effort it will take – just do it!"
About deTour 2020 – Themed Matter of Life, this year's deTour design festival is curated by the Hong Kong-based Trilingua Design Studio. It invites communities all over the world to come together in what has been a challenging and uncertain year. Furthermore, the festival questions the role of design in our everyday lives especially when our daily routines are being disrupted, prompting contemplation of re-evaluation. The Virtual Festival of deTour is now extended until 10 January 2021, so visitors could enjoy the festival for an extra month. https://www.detour.hk/2020/en/exhibitions/