Art Week Hong Kong 2023 is here and it just got better as we listened to artist Rashid Johnson speak to Muad Page. He spoke about collective anxiety, the zeitgeist, African history, books, films, materials and more.
Rashid Johnson is a contemporary American artist who works across a variety of media, including sculpture, photography, painting, and installation. He was born in Chicago in 1977 and grew up in a working-class African American family.
Johnson's work often explores issues of identity, race, and history, drawing on a range of cultural references and materials. He is known for his use of everyday materials like shea butter, black soap and plant matter. He incorporates them into his sculptures and installations to explore themes of ancestry, memory, and cultural heritage.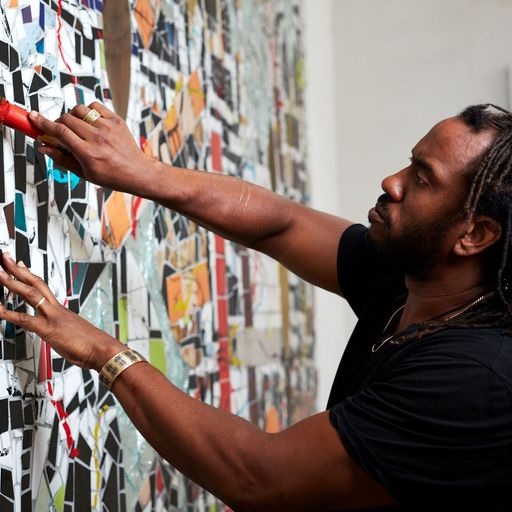 In addition to his use of materials, Johnson's work also draws on a range of cultural references. He is interested in how cultural artifacts can serve as vehicles for personal and collective expression. His work often re-contextualizes these artifacts in unexpected ways.
Hauser & Wirth Hong Kong
Rashid Johnson – Nudiustertian
20 March – 10 May 2023
Johnson has been widely exhibited in the United States and internationally, and his work is held in the collections of major museums and galleries around the world. He is known for his intellectual rigor and his commitment to exploring complex themes in innovative and engaging ways.
Artists are not the best people to be filmmakers but curators are.

Rashid Johnson jokes in the context of filmmaking
Talking about one of his collection of works called "The Anxious Man", he says "Collective anxiety" is a complex phenomenon that can be influenced by a number of factors, including cultural and social context. As an artist, he is interested in exploring how the zeitgeist – the cultural, intellectual, and political climate of our time – is shaping collective anxiety, and how this anxiety manifests in different communities and societies.
You could explore how this history impacts collective anxiety among people of African descent, both in Africa and in diaspora communities around the world.
The duo then explored the topic of Johnson's Art through the lens of African history.
On Materials, he says he considers using materials that have cultural and historical significance in African art and craft traditions. This could include natural materials like shea butter, wood, clay, or plant fibers, as well as more contemporary materials like plastics or metal. By using materials that have cultural and historical resonance, you can create works that speak to both the past and the present, and engage with issues of identity, memory, and social justice.
He talked about the "physicality" of books and how his house was filled with it. He added it gave him early exposure as well as intimidation. He mentions one of the books he came across as a child, "The Crisis of the Negro Intellectual" by Harold Cruse.
When talking about materials, he highlights found objects and object one searches for. He emphasised on how he leans to the later for his creations.
I search and look for things that are very specific, transparent. There is repetition, literary references from the books, the repetition from them, it is all part of the process.
He also has a profound liking for books owned by someone previously.
About Artist Rashid Johnson
Rashid Johnson is part of an influential group of contemporary American artists whose work explores art history, individual and shared cultural identities, personal narratives, literature, philosophy, materiality, and critical history through a variety of media. Johnson has created brand new works for his first solo exhibition in Asia, 'Nudiustertian,' including Bruise Paintings, Surrender Paintings, and Seascape Paintings, alongside his mosaics, continuing to work with a complex range of iconographies to explore collective and historical expressions of longing and displacement, while speaking to the times we live in.
Nudiustertian is an obsolete English phrase meaning of or related to the day before yesterday or the very recent past. For Johnson, the exhibition 'Nudiustertian' is an exploration of his own very recent past, with the works representing part of his practice that developed between 2018 and the present. All of these works track both his individual personal and artistic evolution throughout the last several years but also mirror the global zeitgeist.
Deputy Director and Director of Collections at the Art Gallery of NSW, Sydney, Australia
Overall, there are different ways to explore the intersection of collective anxiety, zeitgeist, African history, and materials as an artist. The important thing is to find a topic and approach that resonates with your own interests and experiences. One that allows you to create work that is meaningful and impactful. In addition to his visual work, Johnson is also a skilled speaker, a voracious reader, a filmmaker with a distinctive voice that blends poetry, humor, and profound insights.
Despite his many accomplishments, Johnson remains humble and approachable. He is known for his generosity in his work and commitment towards community.
His work is an inspiration to many, and his voice is a powerful and important one in contemporary art and culture.