It was more than a year ago that Art Basel was held at Hong Kong and this year the festival will once again be a hive of activity, attracting not just local crowds but also a virtual viewership. Featuring more than 100 galleries this year, the organisers have decided to up the ante by including VIP hologram viewing sessions, satellite booths for overseas exhibitors and of course, the special assortment of renowned artists and curators.
Art Basel is an international contemporary art exhibition held in Basel, Miami and Hong Kong. Local and international artists showcase their artworks in different media including, paintings, installations, sculptures, film and performance art, in the largest art exhibition and the biggest contemporary art festival in Asia.
Here's our round-up of some of the most anticipated international artists and booths in Art Basel Hong Kong 2021. We've got the inside line on what's sure to be an amazing show!
Andrew Luk
de Sarthe Gallery, Hong Kong
de Sarthe is presenting new works of artist Andrew Luk for this edition of Art Basel Hong Kong. Multimedia artist Andrew Luk is known for employing futuristic aesthetics to engage with the experience of modernity. Deep Earth Event Horizon No.2 is one of the artist's contemporary works in display. 'Haunted, Salvaged' is a large-scale suspended mobile installation with disfigured objects hanging from the steel limbs which is an unmissable part of the Art Basel arena. The artist muses on the idea of anthropogenic elements of the natural world that co-exists with humanity in a vibrant yet abstract set of canvases that proliferates a vivid image of reality. The installation has been acquired by the K11 Art foundation.
Haunted, Salvaged
Andrew Luk
Michael Lau
Lévy Gorvy, New York/London/Hong Kong/Paris/Zurich
This year the highlight of Lévy Gorvy's booth is the showing of Hong Kong artist Michael Lau's work. Michael Lau is known for influencing a sparking trend amongst major international artists by being the first artist to make collectible vinyl figurines. Lau's philosophy "all art are toys, all toys are art" reflects in all his works. Our favorite one was "TABLE FOR THREE" from his flowers series pictured below.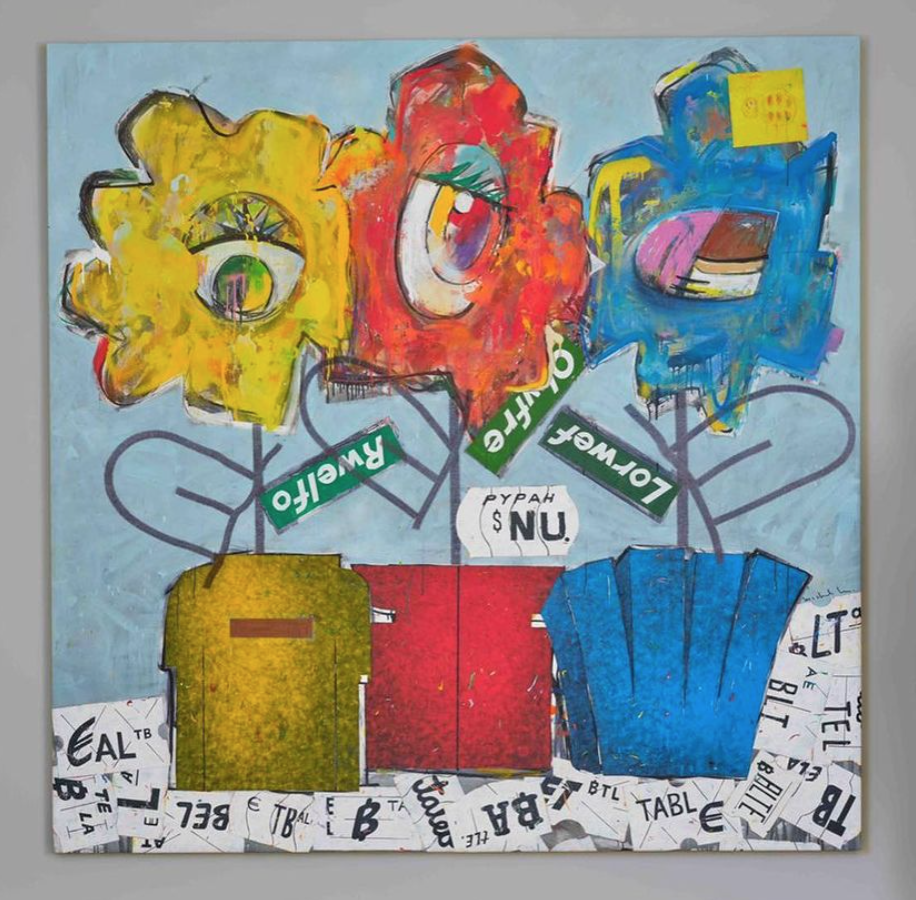 Lee Bul
Lehmann Maupin, New York/London/Seoul/Hong Kong
Lee Bul is best known for her hybrid sculptures and monumental installations, such as the giant silver zeppelin displayed in 2019 at Art Basel Hong Kong. At the 2020 spotlight, Lehmann Maupin showed the artist's biomorphism-inspired paintings in Hong Kong for the first time. This year, the artist's work is that of a light tower which highlights esoteric parts of quotes from a Paul Bowles novel. Lee is said to have previously gathered materials from decommissioned guard posts at the demilitarised zone between North and South Korea.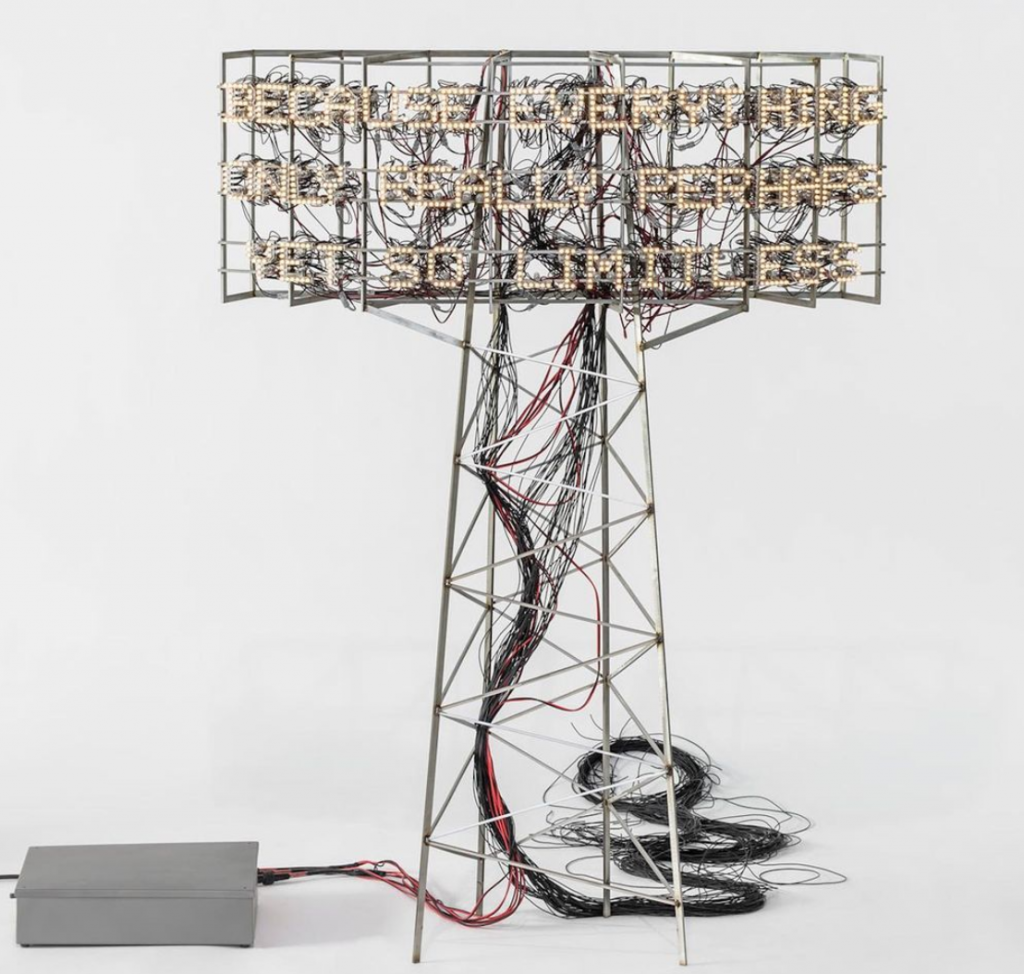 Kimsooja
Axel Vervoordt Gallery
This year Axel Vervoordt is dedicating their booth to South Korean artist Kimsooja . She is known to conceive mirror surfaces as a canvas. The work featured is Kimsooja's Encounter – A Mirror Woman (2017-19) which is made up of modular panels of mirrors, mirrors in the floor surface and folded mirror screens reflecting visitors endlessly representing notions of reciprocity and duality. The artist's work can be referenced both as an object and as a metaphor for the visitors' relationship with multiple spatial dimensions.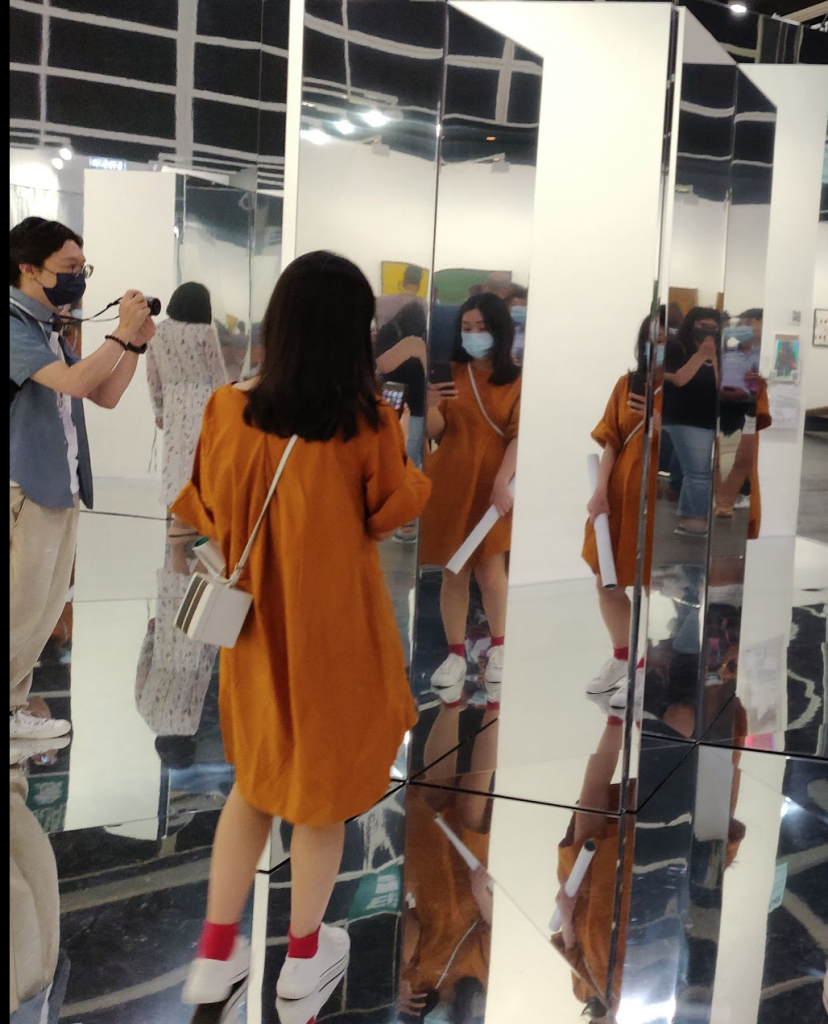 José Parlá
Ben Brown Fine Arts
Ben Brown Fine Arts is showcasing a curation of multiple international contemporary artists such as ony Bevan, Yoan Capote, Rob and Nick Carter, Awol Erizku, Candida Höfer, Vik Muniz, Nabil Nahas and José Parlá amongst others. American artist José Parlá makes large-scale murals, paintings, sculptures, many of them inspired by street art and graffiti found in cities around the world. He brings his street-style art and city aesthetics through this large installation (pictured below) and we took a liking to it immediately.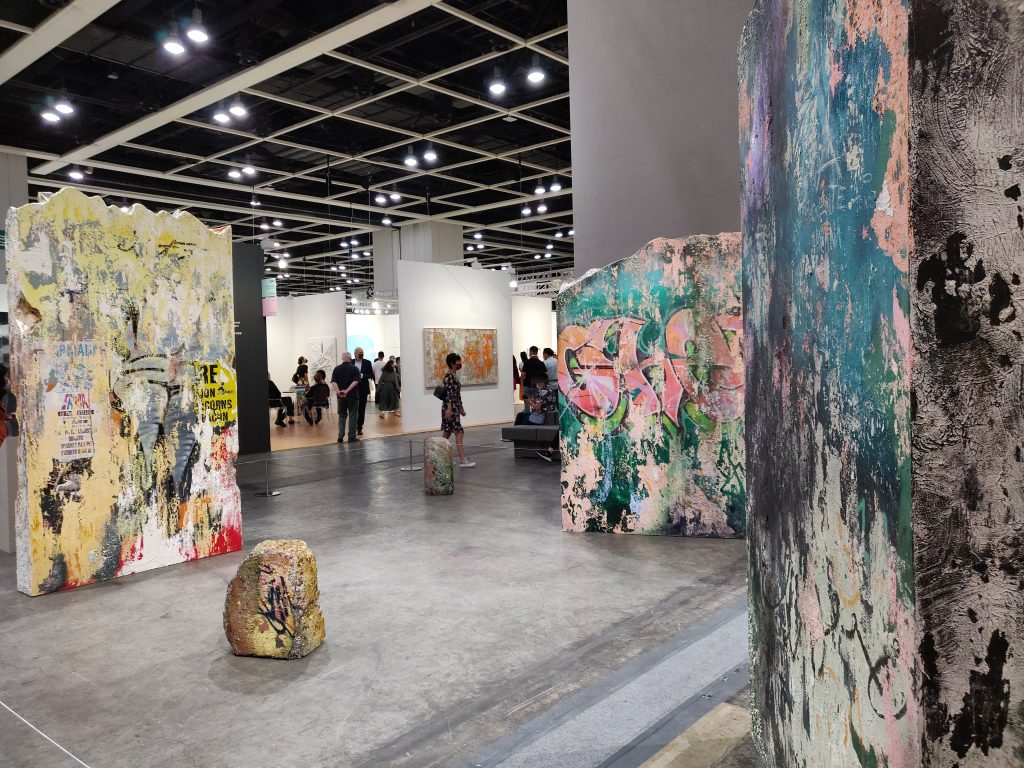 Art Basel 2021 Hong Kong is held at the Hong Kong Convention and Exhibition Centre in Wan Chai from May 19 – 23.